The Report Builder allows you to manage the sections that make up each report, and provides:
1. An overview of the sections that make up a particular report.
2. An entry point into those sections that require your input.
On entering the Report Builder, you'll notice that a number of sections have been automatically added for your convenience, much like this.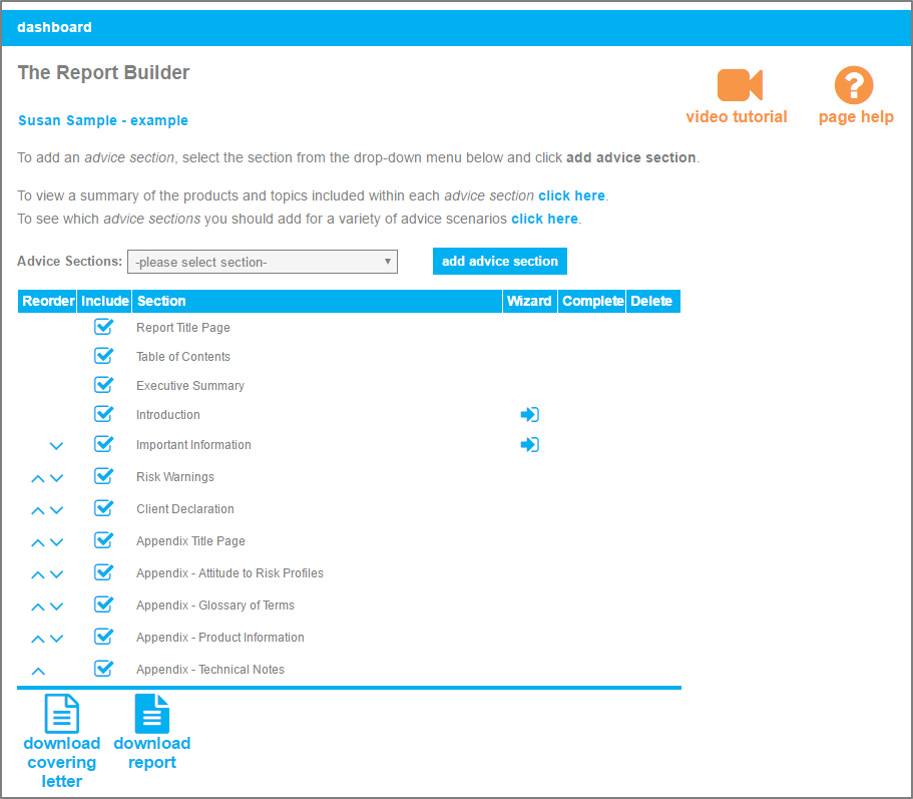 However, you will need to add other advice sections to reflect the advice you're providing. To see which sections you need to add to the Report Builder for a variety of advice scenarios click here. To add an advice section, select the section from the drop down menu and click add advice section.
Any advice sections you add will be inserted into the Report Builder below the Introduction section in the order you add them.
The content of those sections that do not have a  
 icon will be automatically generated, and thus these sections require no input from you.
The content of the other sections is  generated by a step-by-step workflow (section wizard) which does require your input.
To enter the section wizard of a section click
. You'll be led through a series of questions (steps) which prompt you to provide the information required to complete that section. Having completed the section, you'll be returned to the Report Builder screen where you'll notice a tick has been inserted alongside the
 icon.
To help maintain a consistent train of thought and achieve a natural flow to your report, we suggest you:
1. Complete each section that requires your input individually in turn - starting at the top with the Introduction section and work down.
2. Change the order the sections will be displayed within your report using the up and down reorder icons to reflect your individual preferences.
3. Further tailor the structure of your report to reflect your personal content preferences by hiding any sections you do not wish to include in that particular report. This is easily achieved by unchecking the tick in the Include column to the left of the section name.
You can download your report at any time by clicking download report. The report will automatically download as a standard MS Word document. 
Further Information